.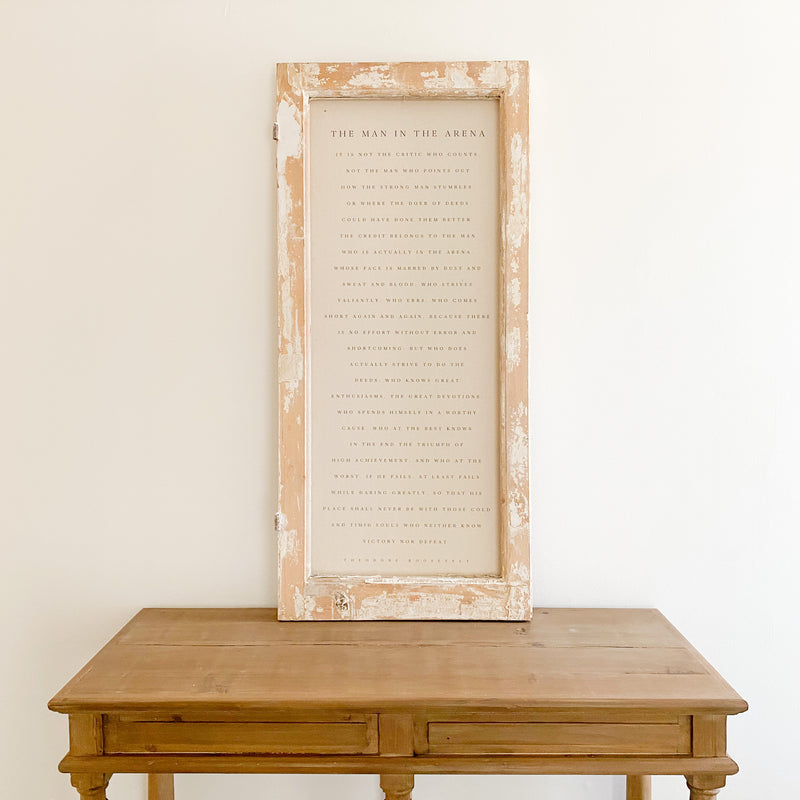 Man in the Arena Short and Wide European Frame
In stock
Theodore "Teddy" Roosevelt said: "It is not the critic who counts; not the man who points out how the strong man stumbles, or where the doer of deeds could have done them better. The credit belongs to the man who is actually in the arena, whose face is marred by dust and sweat and blood; who strives valiantly; who errs, who comes short again and again, because there is no effort without error and shortcoming; but who does actually strive to do the deeds; who knows great enthusiasms, the great devotions; who spends himself in a worthy cause; who at the best knows in the end the triumph of high achievement, and who at the worst, if he fails, at least fails while daring greatly, so that his place shall never be with those cold and timid souls who neither know victory nor defeat." 
Each one of these vintage window frames is unique on it's own. With some leftover chippy paint of days gone by and a touch of hardware on each piece, it will add just the right amount of character to your home. Each saying is printed in charcoal on natural canvas. 
Frames are imported from Europe. 
Dimensions & More
Approximately 44" w x 22" h.
As these are old farmhouse windows they can run a little smaller or larger than this. 
Variations in the paint and rustic wood are to be expected and are the nature of the piece.
Shipping & Returns
This item ships with our standard shipping rates in 2-3 weeks. For a shipping quote outside our regular shipping zone please contact us with your inquiry.This item is eligible for return up to 30 days. A full refund will be given within 14 days of receipt and a store credit between 15-30 days. No returns after 30 days. Please Note: Shipping is not refundable and customer is responsible for return shipping costs. Please view our Returns & Exchanges page for more info.